Choose Showtime to Buy Tickets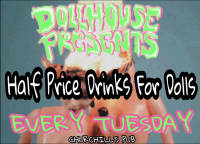 Dollhouse Presents... Eugene Chadbourne, 1/2 off Drinks for Dolls
Ages: 18+ Ages
This Event Has Ended
Avant-garde guitar legend Eugene Chadbourne was born in Mount Vernon, New York, but grew up in Boulder, Colorado. He started playing guitar when he was eleven or twelve, inspired by the Beatles and hoping to get the attention of girls. Although he was drawn to Jimi Hendrix and played in a garage band, soon afterwards he found rock and pop music too conventional.

Presented by: Dollhouse Presents and Eclectic Overdrive

12:30am Baby Bear/MiamiGameBoy
11:15pm Eugene Chadbourne
10:45pm The Imbecile
10:15pm Fsik Huvnx
9:45pm Xela Zaid

Cheap drink specials all night.