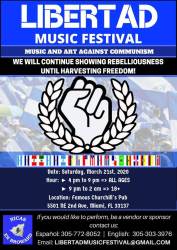 *** CANCELED ***
Libertad Music Festival
Time: 9:00pm Day: Saturday Doors: 8:00pm Ages: 18+ Ages
This Event Has Ended
Nicas en Broward and DJ Oski will be hosting the first Libertad Music Festival: Music & Art Against Communism on Saturday March 21, 2020 from 4pm to 2am at Churchill's Pub 5501 NE 2nd Ave, Miami FL 33137. This event will be Nicas en Broward's first major fundraiser of the year. Proceeds from the event will enable Nicas en Broward to sustain its ongoing mission of supporting victims of the Ortega's dictatorship in Nicaragua.
Nicas en Broward is a community-based non-profit organization established in August 2018 in Broward County, FL and its mission is to offer support to Nicaraguans who are victims of the dictatorship and repression perpetrated by the communist government of Nicaragua after the social uprising that began in April 2018. Since then, Nicas en Broward has organized and participated in numerous fundraisers in Broward and Miami Dade Counties and has directly supported victims such as political prisoners. Nicas en Broward raised money to help support the families of the victims who have lost their loved because they were protesting about the dictatorship of the Ortega-Murillo Regime. Nicas en Broward raised enough money to take a 4 day humanitarian trip to Costa Rica to help the displaced Nicaraguan refugees. Nicas en Broward was able to provide: food and medicine. This time Nicas en Broward, in conjunction with several local musicians and artists, is organizing this community event to raise awareness and show support to the people of Cuba, Nicaragua and Venezuela, as they continue to be oppressed by communist leaders.
The people of Cuba, Nicaragua and Venezuela continue to be hurt by the cruel and oppressive communist regimes. More recently, hundreds of protesters have been killed and kidnapped in Venezuela and Nicaragua. In these countries, human rights are not respected and crimes against humanity are committed on a daily basis. The South Florida community is raising its awareness against communist regimes that are killing our people. Many local bands and artists will join us in this event to continue to show rebelliousness, this time through music and art, until we harvest freedom. Come join us in this festival and let the people from Cuba, Nicaragua and Venezuela know that we support their right to peace, justice and democracy. Let's unite our voices for freedom.