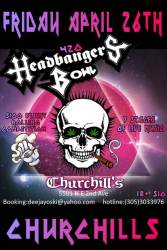 HEADBANGER'S BOWL - 1000 POUNDS OF THRUST, REVOLUTION, EUNIOA, DEATH OF A DEITY, EVILESK, MANNIQUINKIND, SUN CITY RIOT, IMMORAL ORCHESTRA, BARAJA, NEOWULF, EXIT 27, JEAN PEREIRA, MIND VIRUS
Time: 9:00pm Day: Friday Doors: 8:00pm Ages: 18+ Ages
420 HEADBANGERS BOWL
3 stages of live music. $100 Blunt Rolling Contest & more.
Friday April 26th 2019 at The World Famous Churchill's Pub • 9pm til 3am. 18&up.

To be a part of this event please email a brief bio, photo of your band, website, your contact info and an mp3 or link to a video of your music to: DeeJayOski@yahoo.com • Hot line 305.303.3976.

Bands already confirmed for 420 HEADBANGERS BOWL! FRIDAY APRIL 26TH at Churchill's
1000 POUNDS OF THRUST (20 YEAR ANNIVERSARY)
REVOLUTION
EUNIOA
DEATH OF A DEITY
EVILESK
MANNIQUINKIND
SUN CITY RIOT
IMMORAL ORCHESTRA
BARAJA
NEOWULF
EXIT 27
JEAN PEREIRA
MIND VIRUS
MORE TBA!