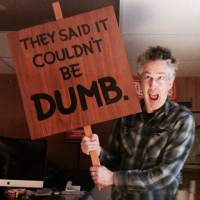 Mark Hossler (NegativLand)
Time: 9:00pm Day: Thursday Doors: 8:00pm Ages: 18+ Ages

Mark Hosler is a founding member of the American audiovisual collage group Negativland. Since 1980 Negativland have been creating records, video, visual artworks, radio, and live performance, using appropriated sound, image, and text.
https://www.youtube.com/watch?v=KN1z58l88dU
Mark takes a break from his Negativland duties to perform live and solo using a performance set-up built around various homemade one-of-a-kind electronic noise-making devices (including two of Negativland's original "Boopers"). Sometimes sounding like insane, alien, electronic insects fighting each other, the Boopers create a non-linear dynamic "living" system of sound. Using multiple Boopers (all based on Wills's original design) and other homemade electronics as primary sound sources, Mark manipulates and augments the raw sound sources into a choral rainforest of pure electronic ear candy, erasing any easy distinction between the machine and the human.
"Arguably the preeminent audio collage collective of our time," according to HI FRUCTOSE Magazine. In addition to live shows, CDs, radio shows, books, DVDs and visual art shows both solo and with Negativland, Mark Hosler has given over 100 lectures at institutions including MIT, Yale, Princeton, Duke University, New York University, UC Irvine, UC Berkeley UCLA, Seattle University School of Law, Cranbrook Academy of Art, Universities of Arizona, Virginia, Tennessee, Georgia, North Carolina; at various venues in Washington D.C, New York City, London, Rome, Berlin, Barcelona, Lisbon, Bologna, Lausanne, Amsterdam, Stockholm, Toronto, Vancouver, Honolulu, Sydney and Melbourne, Australia; and, as a citizen lobbyist on art issues and copyright law to various Senators and Congressmen on Capitol Hill in Washington DC.
Mark Hosler
Sony Mao
Ed Matus
Montañé
Fsik Huvnx
$5 / 18+
$3 Special on Select Beer
$3 Fireball
************************
1am to close Happy Hour
$3 draft beers
$3 Jameson
$3 Fireball
$3 Deep Eddy
$3 Jack Daniels