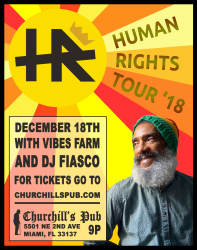 H.R. of (of Bad Brains), Vibes Farm, DJ Fiasco
Time: 9:00pm Day: Tuesday Doors: 8:00pm Ages: 18+ Ages Price: $13
This Event Has Ended
https://www.facebook.com/events/707151492998927/
Churchill's Pub Presents the Human Rights Tour featuring HR of Bad Brains, Vibes Farm, & DJ Fiasco. Tickets on sale now at https://tickets.holdmyticket.com/tickets/324852

Paul "HR" Hudson was born in Liverpool, England, in 1956, to a Jamaican mother and American father who moved him to the States when he was a toddler. As his father was in the Air Force, his family moved around a lot, finally settling just outside of Washington, DC. In addition to his love for music, HR was an athlete from an early age and excelled in swimming and pole vaulting.

HR is best known as the front man for the iconic punk band Bad Brains. HR and his brother, Earl, together with friends Gary "Dr. Know" Miller and Darryl Jenifer, began as Mind Power, a jazz fusion band, then formed Bad Brains in 1979. With unprecedented speed and precision, Bad Brains took the Washington, DC music scene by storm and quickly became the most influential band in American punk history. They created music that was about closing the racial divide and maintaining a positive mental attitude (PMA). This concept of PMA continues to inspire fans to this day.

Early in his career, HR became interested in reggae and the Rastafarian movement. These pursuits transformed him and he began to focus more on the spiritual nature of reggae than the fast lifestyle of the punk scene. Together with Al "Judah" Walker, he formed the short-lived group called Zion Train. He then moved on and formed Human Rights with his brother in 1984.