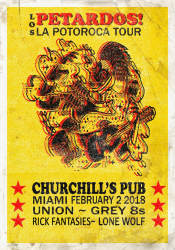 Los Petardos, Union, Grey 8's, Rick Fantasies, & Lone Wolf!
Time: 9:00pm Day: Friday Doors: 8:00pm Ages: 18+ Ages Price: $5.50
This Event Has Ended
LOS PETARDOS! are back in Miami for their La Potorca tour!
https://lospetardos.bandcamp.com/
Truly encompassing the spirit and strength of the Puerto Rican people, Los Petardos! have risen from the ashes of destruction more energetic than ever on this, their latest tour. There will be no signs of slowing down from these guys. Their shows are a festive blend of hard-rocking pop, punk, and high-energy grooves, enveloped in a sprinkling of Caribbean fire. You'll feel right at home under their fluorescent wing! You see; their music has always been, and will always be a celebration, no matter what the circumstances are. Come see the untouchable ball of energy that is Los Petardos!

with support from local acts:

UNION
facebook.com/unionbandmiami
The perfect blend of punk, ska, surf and South American garage, Union take on all faces of the people at once. Their sound is universal and inspiring; perfectly controlled bursts of fist-raising energy. Their songs are fine tuned weapons aimed at the heads of the unjust: the riffs are the bullets, the words their gun powder. Find yourself incapable of standing still when they take the stage, for it will be a party, a party with a purpose.

THE GREY 8s
soundcloud.com/theey8s
The Grey 8s consistently manifest hard-hitting, droning riffs that will twist you up and shoot you through a fuzzy wormhole. Their sound is surf-ridden, cold, and spaced the fuck out, but always remaining rooted in their hard, unrelenting drive. They never stray too far from their respective post, taking you to a momentary place of exhalation, only to pull you right back in by the sheer force of their massive and magnetic gravitational pull. Be ready to ride with them, for you will have no choice once their assault begins.

RICK FANTASIES
soundcloud.com/hitititlykeiscrack
A prolific bedroom recording prodigy, Rick Fantasies truly radiates artistic brilliance. His songs are perfect gems, reminiscent of 90s noise pop in a voice all his own. His lyrics are poetic, vulnerable, and playful, making the best of all that might get a modern dude down. Backed up by a gang of his closest boys, his live set takes the songs and makes them big and powerful, displaying the transformative process that he experiences through his work and craft.

LONEWOLF OMB
lonewolfomb.bandcamp.com
A true spectacle to behold, Bruno Esposito, known to the nocturnal bar dwellers simply as "Lonewolf", delivers on his name and then some. A one man force armed with a drum on each foot, a harmonica framed to his face, and a multitude of instruments taking turns upon his hands, he channels the souls of all the buried blues ghosts, making them jump up out of their graves and dance upon their bones. His guttural croons tell tales of a time he's never seen, but ring loudly and familiar, as if he's been there before. Unexpected, Miami-bred, and completely unfiltered Americana.