Friday Nov. 27th 2015
Fridge Art Fair is coming!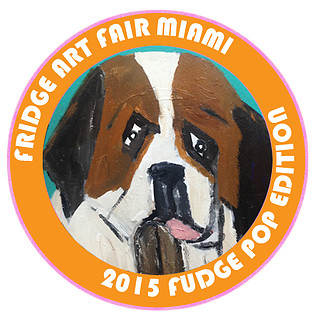 HOLIDAY INN MIAMI BEACH
DECEMBER 3 - 6 2015
PREVIEW THURDAY DEC 3RD FROM 4-7 THE GRAND
GALA THURS DEC 3RD FROM 7-10PM
43RD AND COLLINS AVE & 43RD AT THE BEACH BOARDWALK
CLICK HERE TO GET TICKETS
Event registration with Ticketleap - General Admission
- Opening Gala
VIP Passes & INFO
VIP@fridgeartfair.com
PRESS
lynn@greengalactic.com
FrIDgE ArT FAir
Fridge Fudge Pop Edition
Holiday Inn, Miami Beach
4333 Collins Ave, Miami Beach, FL 33140
• Thu. Dec. 3 • 4:00pm - 9:00pm
• Fri. Dec. 4 • 11:00am - 9:00pm
• Sat. Dec. 5 • 11:00am - 9:00pm • Sun. Dec. 6 • 11:00am - 7:00pm CLICK HERE TO GET TICKETS Sell tickets online with Ticketleap
FRIDGE MIAMI 2015 EVENTS
(ALL EVENTS ARE OPEN TO THE PUBLIC)
The Great Fridge Preview!
Thursday December 3rd from 4-7Pm
The Fridge Art Fair Grand Fudge Pop Gala to Benefit the LGBT Visitor Center of Miami Beach
From 7-10 pm Featuring an "Evening with Sweetie" Starring drag superstar Sweetie VIP and Press preview
Thursday December 3rd from 4-7 pm
CLICK HERE TO GET TICKETS
FRIDGE & CHURCHILLS PUB MIAMI
Fridge has teamed up with Miami's landmark music venue, Churchill's Pub. Under the supervision of Emcee "Battle Funk," from 3-6pm daily! Churchill's will present some of Miami's hottest and coolest popular performers in the Fair's Sculpture Garden outside the Beach/Boardwalk entrance.
The Fridge Art Fair Pre Party After Party at Churchill's Pub
Fridge is celebrating itself and is hosting a pre party after party at Churchill's Pub in mainland Miami's Winwood/Little Hati.
Fridge Art Fair celebrates its self with special Fudge Pop Fridge Suprises!
FRIDGE & CENTRE-FUGE AT CHURCHILLS PUB MIAMI
public art project presented by Fridge and Centre-Fuge at Churchill's will feature a surprise line-up of street artists from NYC, Miami and more! Info at http://churchillspub.com and http://www.centrefugeart.com/
FRIDGE FILM SCREANING AT FRIDGE ART FAIR "CHARMED LIFE"
Honoring our opening gala's shining hostess Sweetie and her new show "An Evening With Sweetie" we will be screening Pure Content Pictures Documentary "Charmed Life" which focuses on the Sandra Bernhard shows "Sweetie" and her life in Drag. The documentary features some of the biggest names in the Drag world from Mother Sabrina Flawless to the "Scissor Sisters" Ms. Rose. The Film will be screened at one pm Friday Dec 4th at Fridge Art at the Holiday Inn Miami Beach.
FRIDGE POP UP & PRE PARTY AT THE LGBT VISITORS CENTER OF MIAMI BEACH (LOCATED ON THE GROUND FLOOR OF THE OLD CITY HALL/NOW THE COURTHOUSE)
WED DECEMBER 2ND AT 7 PM is the date!!! AT 13TH STREET AND WASHINGTON AVENUE
Moving off-site, Fridge Art Fair presents a Pop Up exhibition "Color Me Happy" in South Beach at our Grand Gala beneficiary, LGBT Welcome Center of Miami Beach located on the ground floor of Miami Beach's Historic Courthouse. Opening December 2 with the "Grand Fudge Pop Pre Party" hosted by Churchill's Pub from 7- 10, the show presents colorful, joy-filled works of art by the extended Fridge family of creators from Miami, New York and around the world. Surprise host/DJ is a notorious Miami legend, and we will say no more...Suggested donation is 20 dollars to benefit the LGBT Welcome Center.
This exhibit runs through Art Week and is open to all, as is Fridge Art Fair at the Holiday Inn Miami Beach; during the Welcome centers open hours gogaymiami.com. Donations are appreciated and go to the Welcome Centers Mission of continuing beach pride and creating a Miami Beach and world where the LGBT community is treated with respect and dignity and an environment where one is able to love and cherished who they are. We have made a lot of progress but there is still work to be done!
We are also pleased to present world renowned musician Matt Sullivan, oboist/composer/improviser, is Director of Double Reed Studies at New York University's Steinhardt Department of Music and Performing Arts Professions. Well known for his longtime association with New York City's Downtown music scene, Matt grew up in St Louis, Missouri where he began subbing in the St. Louis Symphony at 17 years of age. In 1972, he moved to Miami to attend the University of Miami. While in Miami he became principal oboist with the Miami Opera, the Ft Lauderdale Symphony, the Miami Beach Symphony and Miami Philharmonic (now the Florida Philharmonic). Moving to NYC in 1978, Matt is lives in Manhattan's East Village. Matt Sullivan returns to Miami with performances of his own electro- acoustic solo oboe music at Fridge Art Fair Miami Beach.
www.mattsullivan.org
"THE B.A.R.C. PROJECT" ERIC GINSBURG TO BENEFIT B.A.R.C.
Fridge Art Fair's "The Brooklyn Animal Rescue Collation Project" featuring dog and cat portraits and commissions by Eric Ginsburg http://www.worldoferic.com with proceeds going to benefit B.A.R.C.! Bring your favorite dog or cat's photograph and not only do you get a painting of the special ones in our lives you help support and save the lives of many others!!! http://www.barcshelter.org
Get full fair info and updates at http://www.fridgeartfair.com