Monday Nov. 30th 2015
Churchill's & The Fridge Art Fair!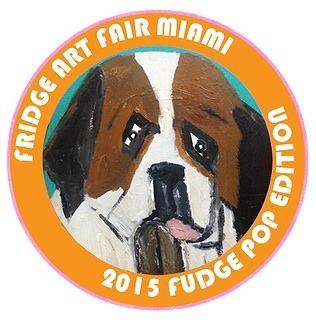 HAPPY SWEET SURPRISES – Movies, Music and More!
FRIDGE ART FAIR: THE FRIDGE FUDGE POP @
THE HOLIDAY INN MIAMI BEACH!
Fridge Art Fair Special Events December 2-6
*Please note: The Fair is accessible through the lobby of the Holiday Inn Miami Beach, 43rd & Collins OR through the Holiday Inn/ fairs Boardwalk entrance at 43rd St. and the beach!
Fridge Art Fair is properly chuffed to announce 3 fantastic collaborations during its 2015 Miami edition, December 2-6.
Fridge has teamed up with Miami's landmark music venue, Churchill's Pub. Under the supervision of Emcee "Battle Funk," from 3-6pm daily, Churchill's will present some of Miami's hottest and coolest popular performers in the Fair's Sculpture Garden outside the Beach/Boardwalk entrance. Plus, public art project presented by Fridge and Centre-Fuge at Churchill's will feature a surprise line-up of street artists from NYC, Miami and more! Info at http://churchillspub.com and http://www.centrefugeart.com/
Honoring our opening gala's shining hostess Sweetie and her new show "An Evening With Sweetie" we will be screening Pure Content Pictures Documentary "Charmed Life" which focuses on the Sandra Bernhard shows "Sweetie" and her life in Drag. The documentary features some of the biggest names in the Drag world from Mother Sabrina Flawless to the "Scissor Sisters" Ms. Rose. The Film will be screened at one pm Friday Dec 4th at Fridge Art at the Holiday Inn Miami Beach.
Moving off-site, Fridge Art Fair presents a Pop Up exhibition "Color Me Happy" in South Beach at our Grand Gala beneficiary, LGBT Welcome Center of Miami Beach located on the ground floor of Miami Beach's Historic Courthouse. Opening December 2 with the "Grand Fudge Pop Pre Party" hosted by Churchill's Pub from 7-10, the show presents colorful, joy-filled works of art by the extended Fridge family of creators from Miami, New York and around the world. Surprise host/DJ is a notorious Miami legend, and we will say no more…Suggested donation is 20 dollars to benefit the LGBT Welcome Center.
This exhibit runs through Art Week and is open to all, as is Fridge Art Fair at the Holiday Inn Miami Beach; during the Welcome centers open hours gogaymiami.com. Donations are appreciated and go to the Welcome Centers Mission of continuing beach pride and creating a Miami Beach and world where the LGBT community is treated with respect and dignity and an environment where one is able to love and cherished who they are. We have made a lot of progress but there is still work to be done!
Fridge Art Fair's "The Brooklyn Animal Rescue Collation Project" featuring dog and cat portraits and commissions by Eric Ginsburg http://www.worldoferic.com with proceeds going to benefit B.A.R.C.!  Bring your favorite dog or cat's photograph and not only do you get a painting of the special ones in our lives you help support and save the lives of many others!!! http://www.barcshelter.org
Get full fair info and updates at http://www.fridgeartfair.com
WELCOME TO FRIDGE ART FAIR AT THE HOLIDAY INN MIAMI BEACH!