Wednesday Dec. 6th 2017
CHURCHILLS ART WEEK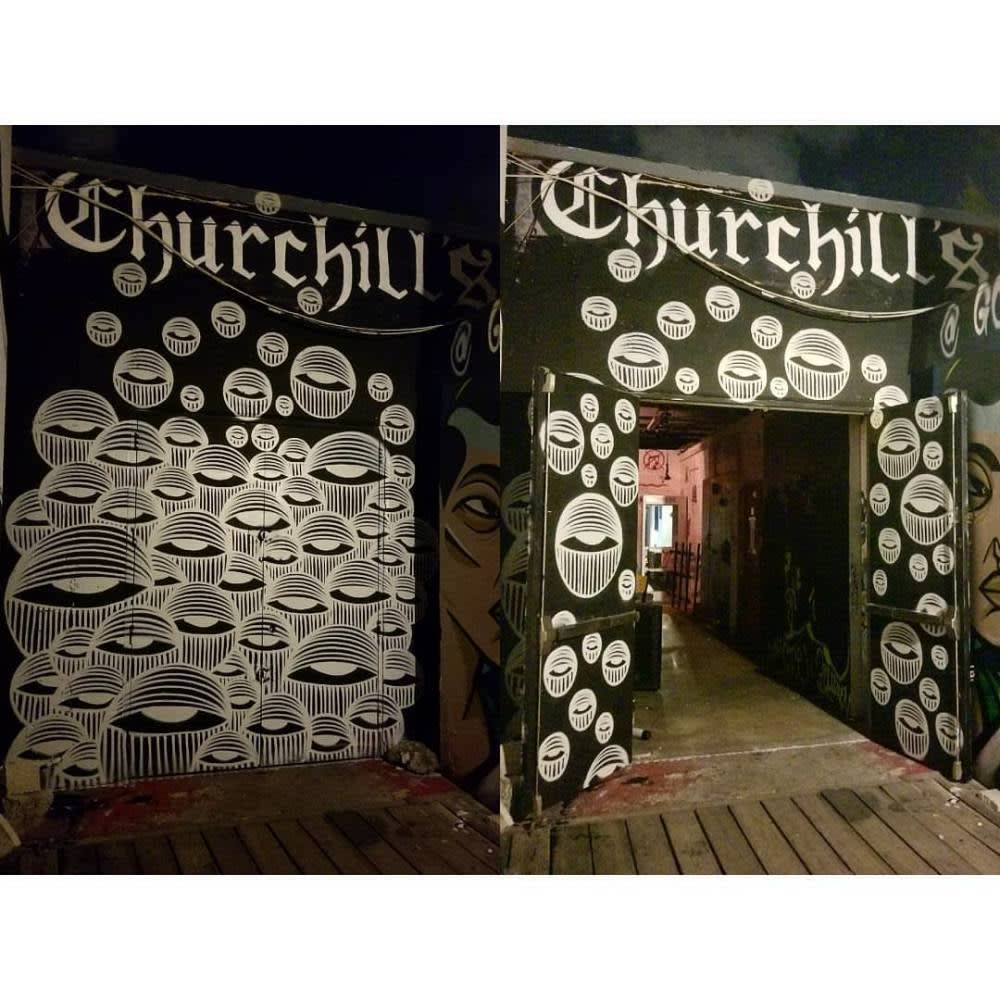 Art Basel is here! Here is your guide for all the great events happening at Churchill's Pub!
CHURCHILLS ART WEEK
Here is your one stop guide for all the great shit happening at churchills this week. It's all things art & anti-art. Starting today (Wed Dec 6th) and running through the weekend!

PUNK ROCK & PAINTBRUSHES
Wednesday December 6th 5p-10p


Come join "PUNK ROCK & PAINTBRUSHES" at Churchill's in MIAMI, FLORIDA as a kick off to Art Basel! Featuring the art of WARREN FITZGERALD of The Vandals, MATT SKIBA of Alkaline Trio & Blink 182, HUNTER BURGAN of AFI, PHILIP BENNET WALKER, STEPHANIE BASCONE, KRISTIN KOEFOED, DANNY GREENE & MOBARICK ABDULLAH III. On display Wednesday December 6th from 5p-12a

ANTI ART BECOMES ART
Wednesday December 6th 10p-5a


Anti-Art becomes art returns for another year curated by Rat Bastard. This event is presented by Miami musicians curating and supporting our own music events without the help of any local institutions or foundation money for the arts, with the exception of bus.zine - a local non profit zine celebrating all things bus. Expect a dozen cutting edge performances blurring the line between art & music. Admission is $5. Event runs from 10p-5a.

ART BASEL DISTRACTIONS ft B L A C K I E
Thursday December 7th 9p-5a


Michael LaCour (born 1987 in Houston, Texas), known by his stage name as B L A C K I E...in All Caps, With Spaces, is an American noise musician. His music is an array of Folk, Jazz, Noise, Rap, and Hardcore Punk. He makes his Miami Debut alongside 15 other acts at the annual Art Basel Distractions party hosted by the Jelly Fish brothers. Check out the full lineup by clicking the photo. Admission is $5 and party starts at 9pm.

LOOK ALIVE FEST 2017 ft Royal Trux + Wolf Eyes
Friday December 8th, 8p-5a


Royal Trux makes their Miami debut this Friday at the annual LOOK-ALIVE festival alongside an amazing list of acts ranging from COIL's Drew McDowall to local favorites, Wastelands. Visuals provided by Secret Celluloid Society. Check out the great interview with Royal Trux here and be sure to grab your tickets to what looks like another sold out fest! 

D.R.I.
Saturday December 9th, 9p-5a


Fuck all this basel bullshit. Just give me a real show. You got it! DRI are playing this Saturday at Churchills. We all need a break from the over-hyped mediocrity that is currently filling the city. American Thrash Metal to the rescue!  $10 tickets are selling fast and almost gone. Tickets will be $15 at the door. Grab the last of the presales here. See you 9pm Saturday.

BLACK MARKET ft Afro Beta + Freak Fashion Show
Sunday December 10th 3p-9p, All Ages


Get ready for the biggest Black Market yet! Featuring Afrobeta + Freak Fashion Show! Plus over 25 vendors, food trucks, live art, dance party, live bands, and more. If you haven't been to a black market at Churchills yet, you don't know what you're missing! Admission is $5 and it runs from 3p-9p.

SUNDAY SOUNDS ft Ethopians + Flea Market Politics
Sunday December 10th, 9p-3a


This is a special Sunday! Closing out Art Basel week and taking over after The Black Market it's the Sunday Sounds Art Basel edition! The main stage will feature legendary roots reggae band The Ethiopians as well as FleaMarket Politics & Miss Michigan. The party patio outside will have DJ's spinning golden era hip-hop, reggae, and dancehall, and dub With a special B2B set by LAMEBOT & MadSavvy, Live performance by Lexa Terrestrial, And a set by DJ/MC duo Crowley & NOME Resident sounds from Mello-D & Original Dub Master. Admission is $5 from 9p-3a

TRUMP RAT
On Display Dec 6th-9th


Trump Rat at Miami Art Week at CHURCHILL'S PUB 5501 NE 2nd Ave. Wednesday, December 7 - Saturday December 9, 11am - midnight or closing Artist Jeffrey Beebe Produced by BravinLee offsite, NYC Presented by lemon sky: projects + editions, Miami 

THIS WEEK'S FEATURED DISH - FISH N CHIPS
Hungry? Our kitchen is open late and serving up the best pub food around! Have you tried our FISH & CHIPS?!? 
🇬🇧 Get your Guinness Beer Battered Atlantic Cod late night at Churchills!