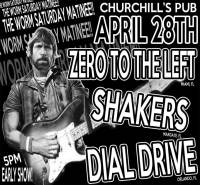 The Worm Matinee - Zero to the Left, The Shakers, Dial Drive
Time: 5:00pm Day: Saturday Doors: 4:00pm Ages: 18+ Ages
THE WORM
Saturday Matinee Show
at CHURCHILLS PUB Miami, FL

April 28th!!

This Saturday's Matinee: 
Doors at 5pm / Show at 6pm
Cheap Drinks! 18 & over.

Early Bird gets THE WORM!!
Come by and hangout before heading out for the evening... Or stay and catch the late show!

Matinee Times: 
6:00pm - 6:45pm Zero To The Left (Miami)
7:00pm - 7:45pm Shakers (Ft.Laud)
8:00pm - 9pm Dial Drive (Orlando)


One Saturday every month :
The Worm Matinee!
Early Bird Drink specials.

Good wholesome early saturday FUN at the Matinee!