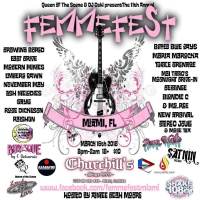 11th Annual Femme Fest with Drawing Bored, Embers Dawn, East Drive, Modern Mimes, Turtle Grenade, Mai Tatro's Moonlight Drive-In, Maria Marocka, Bitter Blue Jays, Blondie C, Rose Dickeson, November May, Destinee, Ashley V, Gayle, Stereo Joule, New Arrival
Time: 9:00pm Day: Friday Doors: 8:00pm Ages: 18+ Ages
This Event Has Ended
The 11th annual FemmeFest!
Over 20 bands on 3 stages! Comedians, Poets, Artists, Vendors, Political Activist Guest Speakers & so much more!
---FRIDAY MARCH 16TH 2018---
@ Churchills Pub
5501 NE 2nd Ave, Miami
Official Event Page https://www.facebook.com/events/191989021384625/

Now in it's 11th year, FemmeFest seems even more relevant. With political frustrations and inequalities at the forefront of the news, music and expression is an important creative outlet for many people. 
This years Femmefest will feature 20 bands and artists of all styles of music, poetry, comedy and guest speakers on 3 stages. It will also include vendors, artists and even a pamper room (massages, nails, make up, fashion).

March is National Women's History Month. Strength has no gender and Femmefest packs a powerful punch, proving that you cannot underestimate a woman's role in society whether in business or music. So come hear her ROAR on March 16th 2018 at Churchills Pub in Miami. 

SPECIAL ANNOUNCEMENT...
Here are the bands & artists performing at the 11th annual Femme Fest ...Check them out!!! (links & bio's below!)
---FRIDAY MARCH 16TH 2018---
@ Churchills Pub
5501 NE 2nd Ave, Miami
8pm-2am, 18&up, $10cover
Official Event Page https://www.facebook.com/events/191989021384625/

Drawing Bored
Website: www.facebook.com/drawingboredband 
Drawing Bored is a collective group of 4 musicians set out to rock and make music that is as exciting as it is diverse. 

Embers Dawn
facebook.com/embersdawn561
5 musicians that came together to give their soul a sound, formed the band known as "Embers Dawn". Starting at a community park with nothing but an acoustic guitar and the back of a blank bank slip, the music flowed freely. Straight out of West Palm Beach, FL, where art and music are major influences, Embers Dawn began to win over the ears of music lovers, everywhere. From Melodic Oceanic tones, to the grinding of metal influences, Embers Dawn has a wide range of sounds, making it difficult to put into one genre. "Its hard to fit us into one specific genre. 
Each member has a different background they come from, adding to the sound you hear." Says lead guitarist, Parker Rockenstein. In addition to the growing musical content, Embers Dawn has teamed up with some of south Florida's talented musicians. Jordan Cole, Morgan Manning and Reggie Miller all have a special element they bring to the table. Excitedly working on the release of their debut album in 2018, Embers Dawn moves forward with plans to tour the east coast of the nation throughout the coming months. "To write lyrics that someone can relate to, letting them know they aren't alone, to me, is one of the greatest things in my opinion. Music is a big responsibility, if we can reach at least one person, then we know our passion has done something great." says songwriter, Nova Embers. This is Embers Dawn.

East Drive
https://www.reverbnation.com/eastdrive8 
East Drive's sound is fueled by rock and blues. Their music has a soulful vibe that is powerful and gritty. Born and raised in Miami, FL, this trio is ready to bring their original music to the South Florida rock scene! 

Modern Mimes
www.modernmimes.com
Modern Mimes is a dynamic duo from Fort Lauderdale, Florida. Mixing elements of alternative rock, electro rock, grunge, metal and industrial, Modern Mimes brings a fresh and unique sound to the scene. Members of the duo include, Adi Elcida Hernandez on vocals, guitar, and drum sampling and Ernesto Paez on the doubleneck guitar/bass. Modern Mimes has been a part of 104.3 The Shark's Riptide Music Festival two years in a row, and has opened for national artists such as, Weezer, Cage The Elephant, Silversun Pickups, Awolnation, Portugal the Man, Marbin and more. The duo plans on releasing their sophomore album titled, The Gray in the summer of 2018.
Video link: https://youtu.be/r7RxqaeofLg

Turtle Grenade
https://m.facebook.com/turtlegrenade/
Emo girl singing and cursing about death, darkness, and spaghetti, in a high pitch and peter pan collar. Sometimes tall moody guy joins in. Miami, Fl.
https://www.youtube.com/watch?v=7kV1bLvNv5I 

Mai Tatro's Moonlight Drive-In
www.MaiTatroMusic.com
Mai Tatro is the 18 year old lead singer and founder of Moonlight Drive-in. Mai has been performing sense she was 10 years old. After 7 years as a solo artist she decided to expand her musical reach by bringing in a guitar player (Gregory Davis) to form the duo witch soon grew to the point that she decided to just go for it and make it a band by adding her long time friend (Kei Bland) on drums to form Moonlight Drive-in (the band). The duo and trio have been growing their following as well as showing Mai Tatro's fans and followers that sometimes more is more

Maria Marocka
https://www.facebook.com/Maria-MaROCKa-179050208828317/

Bitter Blue Jays 
https://m.facebook.com/bitterbluejays/
Bitter Blue Jays are a garage-rock band based out of South Florida. The band was recently best described in a feature in Purehoney Magazine, "Their sound is a guttural blues played with heart and style in spades." Aside from playing shows, the band is gearing up to release their third EP early 2018. The band can be seen rocking out up and down the South Florida Coast in venues such as Churchills, Voltaire, Dada, Funky Buddha, Two& and more. 
Live video from BalconyTV Miami:
https://youtu.be/n5e6P7gl3yw 

Blondie C
www.blondiecantuc.com
Blondie C is a raw and uncut radio show host and rapper. She gives her edgy POV on current events. 

Rose Dickeson
Facebook.com/rosedickesonmusic
Acoustic duo composed of piano, vocals, and syncopated drum grooves.

November May
www.novembermaymusic.com
November May is a folk/acoustic/indie rock-Inspired Band originating in Miami. Female-fronted and with lyrics you can't help but remember, they bring a unique type of sound to a scene dominated by house and hip-hop.
https://www.facebook.com/11.5music/videos/1648243821907822/

Destinee
www.Facebook.com/DestineeMaybachLatino 
The BossLady Destinee, as she is called began her music career at the tender age of 12 when she was signed to Luther Campbell Music. She has graced stages with artists such as Pitbull, Rick Ross, Trina, Wocka Flaka, Lunch Money and Flo-Rida, to name a few. For seven years she was vice-president of Rick Ross' Latin division of Maybach Music Group, Maybach Music Latino. She was also the first Latin/ Female artist signed to the label. After 7 years, she decided to focus on her career on an independent level and they parted ways. Today, she is part of a HipHop rap group named Urban Destinee with her long-time partner while they continue to work on their previous group, THC Crew which has been in existence since 1996; 9 years before she joined the all-male rap group. She also owns a music recording studio and printing company in Doral, Florida where she assists other artists to produce not only music but all of the essential tools needed in marketing and promoting themselves. Dubbed the "One Stop Shop for Everything HipHop", Destinee's company, The Urban Union has been essential to the existence of many relevant artists in the industry locally, and across the U.S.A. 

Ashley V
ashmelodies.com 
Ashley V is a local-grown vocalist with a killer alternative sound!
If you can imagine a balance between Paramore and Evanescence, that is Ashley V. Clean guitar riffs, a touch of electronics, and power vocals, work in harmony to give the audience a fresh take on alternative rock.

Gayle
www.reverbnation.com/gayle4 
Gayle is a singer-songwriter from Melbourne, FL, who was forced to reinvent herself after an extreme voice change in late 2017. Now, Gayle's unique contralto vocals and guitar finesse will lend itself to new and exciting music to be released early 2018. 

Stereo Joule
www.stereojoule.com 
Miami-based indie rock band

New Arrival
www.facebook.com/NewArrivalFL/ 
We're a diverse Alt./Punk Rock band with a metal background and are trying to expand our audience by broadening our musical horizon. 
https://www.youtube.com/channel/UCIqwjCI4FpbA_EoTVvOfdDQ

FemmeFest 2017 - 10 year anniversary PROMO VIDEO:
https://www.facebook.com/labpixlzstudios/videos/1890263071218743/

FemmeFest 2017 Interview with Florida Live Ent.(Queen):
https://www.facebook.com/floridalmm/videos/1670855136550738/

FemmeFest 2016 Interview with Florida Live Ent. (Oski):
https://www.facebook.com/floridalmm/videos/1533556740280579

FemmeFest 2016 Interview with Florida Live Ent. (Queen):
https://www.facebook.com/floridalmm/videos/1533568716946048/

FemmeFest 2007 Promo Video by Ceasar Yenkenes:
https://www.youtube.com/watch?v=1vew-fY1xVU


For booking & sponsorship opportunities, email FemmeFestMiami@gmail.com or call (305)303-3976
www.facebook.com/femmefestmiami
www.facebook.com/QOTSmiami
An Official QOOL SHOW by DJ Oski & Queen Of The Scene
-------------------------------------------------------------
The revolution will not be televised! Be a part of the movement!
If you want your voice to be heard, contact me ASAP to schedule a spot at the 10th annual FEMMEFEST!
We're looking for uplifting, inspiring speakers to encourage positive change in our community and beyond. Please spread the word to everyone you know. 
Bands must have at least one female member to qualify. Fellas if you really want to be a part of FemmeFest you can also submit but we will give the ladies first dibs. We want to include everyone. Please send a brief bio, band photo, website and mp3 or video for promotional purposes.