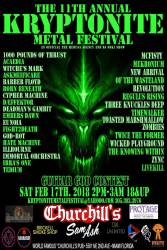 11th Annual Kryptonite Metal Festival
Time: 2:00pm Day: Saturday Doors: 1:00pm Ages: 18+ Ages
This Event Has Ended
The 11th Annual KryptoniteMetal Festival & $100 Cash Guitar God Competition • Saturday February 17th, 2018 at The World Famous Churchill's Miami. 2pm-3am. 18 & up. $10 RSVP, TAG, SHARE, INVITE this event.

Sam Ash • Brickell Smoke Shop • Protage, Inc • @Magee Desige •
Roll White Boys • Lab PixlzStudios • Queen Of The Scene • Apocalypse Records and Azabache Entertainment Group LLC. present an Official The Medusa Agency and Dj Oski Gonzalez

The 11th Annual Kryptonite Metal Festival is going down once again for the 11th year in a row. Kryptonite is The Biggest, The Brutal, The Baddest Underground Metal Festival in South Florida with 28 bands - 3 stages - Guitar God Competition - Vendors, door prizes and more. We have something special planned for our 11 Year Anniversary. Doors open at 2pm til 3am. $10

Official Facebook event page: https://www.facebook.com/events/207583453151069/?ti=cl

Kryptonite Metal Army!

1000 POUNDS OF THRUST
Acaedia
All Hail The Mustache
Askmeificare
Barber Floyd
Born Beneath
Cypher Machine
D/EFFEkTOR
Deadman's Gambit
Embers Dawn
Fight 2 Death
God-Rot
Hate Machine 
Illbourne
Irra's One
McFisty
MekroniuM
New Arrival FL
Of The Wasteland
REVOLUTION
Regulus Rising
The Knowing Within 
THREE KNUCKLES DEEP
Timewalker
Toasted Marshmallow Zombies
Twice the Former
EUNOIA
Wicked Playground
XXXX
ZYNC (New Orleans)

If you would like to perform, be a vendor or sponsor please email your info to kryptonitemetalfestival@yahoo.com 
For more info call 305.303.3976

We are still making a documentary for this years Kryptonite if you have any old footage of your band or your experience at Kryptonite we would love to see it. If we use your footage and pictures for the documentary on Kryptonite Fest you will get credits at the end of the film. Be part of it. \m/ Thank you.

Please support this festival and if you are spreading the word use these hashtags #KMF #Kryptonitemetalfestival #kryptonite

Attention all guitarist!!! Enter The 2018 Guitar God Competition at Kryptonite Metal Festival. To enter please call hotline 
305-303-3976 asap and email your info to: kryptonitemetalfestival@yahoo.com

Winner receives $100 cash, a one of a kind Kryptonite Metal Festival guitar autographed by all the bands and more. 

Rules: You win be given 1 minute to do what ever you want on the guitar. The crowd and judges will pick the winner. 

All Guitar Gods will get a Magnetapick from www.magnetapicks.com These are the coolest picks in the world made here in South Florida. 

Coming soon "The Kryptonite Awards"

SUPPORT OUR SPONSORS AS THEY SUPPORT METAL!!!
Sam Ash • The Music Gear Megastore www.samash.com

Brickell Smoke Shop • For all your smoking needs (305) 967-8187
13 SW 7th St Miami, Florida 33130 
www.brickellsmokeshop.com 

Protage • Protect The Diamond
Tour Managment - Booking Promotion
Henry Paniccia at henry.paniccia@gmail.com
Tel: 239.287.0988

White Boys • Apparel and rolling papers www.rollwhiteboys.com

Lab PixlzStudios • For all your music video, film and photography needs. labpixlzstudios@gmail.com 786-856-8785

Apocalypse Records • Miami Based Rock Lablewww.apocalypserecords.net. 
info@apocalypserecords.net 
(305) 563-7423 

Need a website contact our sponsor
Magee Design www.mageedesign.com 336-491-1308 

To be a vendor or sponsor call hotline 305.303.3976

Kryptonite Metal Festival 11 at The World Famous Churchill's Miami
Saturday February 17th, 2018
Doors open at 2pm til 3am
Hotline: 305.303.3976
Email: kryptonitemetalfestival@yahoo.com

Event page: 

An Official The Medusa Agency & DJ Oski Show
THANK YOU FOR 11 BADASS YEARS!