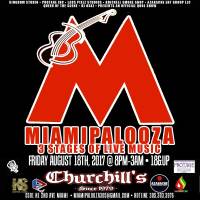 Miamipalooza - MekroniuM, Southern Tier, The Lived, Tone G, DJ Oski, Reede & Co., Tedium, The Virtues, 1000 Pounds Of Thrust, Barber Floyd, PinkFoot Goliath, Gods Among Men, DJ XXX, Coolpeeple, Heroes On Drugs, DJ Chacon & Chinese Takeout, Heroes On Drugs
Time: 9:00pm Day: Friday Doors: 8:00pm Ages: 18+ Ages
This Event Has Ended
Miamipalooza • 3 Stages of live Music. Friday August 18th at The World Famous Churchill's Miami.
Hotline 305.303.3976
RSVP at https://www.facebook.com/events/112581066066871/?ti=cl

We are recording a live album at this event so make sure your face is in the place.

STAGE 1
DJ Oski
9pm-930pm • Tedium
10pm-1030pm • Reede & Co. 
11pm-1130pm • Southern Tier
12am-1230am • MekroniuM
1am-130am • The Lived

STAGE 2
930pm-10pm • The Virtues
1030pm-11pm • 1000 Pounds Of Thrust 
1130pm-12am • Barber Floyd
1230am-1am • PinkFoot Goliath 
130am-2am • Gods Amongst Men

STAGE 3
DJ Tito Luv
1015pm-1030pm • Coolpeeple
1045pm-11pm • Heroes On Drugs
1115pm-1130pm • Tone G
1145pm-1215am • DJ Chacon & Chinese Takeout
12am-115am • Hero On Drugs

MekroniuM
Southern Tier
The Lived
Tone G
DJ Oski
Reede & Co. 
Tedium
The Virtues
1000 Pounds Of Thrust 
Barber Floyd
PinkFoot Goliath 
Gods Among Men
DJ XXX
Coolpeeple
Heroes On Drugs
DJ Chacon & Chinese Takeout
Heroes On Drugs

Bookings at miamipalooza305@gmail.com Hotline 305.303.3976 #Miami#neworleans #music #festival #livemusic #rock #alternative #hiphop #friday#show #oskiawards #churchills #dj
Kingdom Studios. Protage Inc. Lab Pixlz Studios. Queen Of The Scene. DJ Oski Gonzalez. Presents An Official Qool Show.