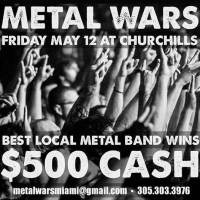 METAL WARS • $500 for the winner. Fri May 12th Churchill's Miami
Time: 9:00pm Day: Friday Doors: 8:00pm Ages: 18+ Ages
https://www.facebook.com/events/1683728748595432/
METAL WARS • Friday May 12th, 2017 at The world Famous Churchill's Miami.
8pm-2am • 18 and up 
The best local metal band wins $500 cash.

Submit your band now at metalwarsmiami@gmail.com • 305.303.3976 
RSVP: https://www.facebook.com/events/1683728748595432/


Here are the rules:
All the bands get 15 minutes sets to show what they can do. To make it fair for all the bands we will back line the event with 2 guitar rigs, 1 bass rig and a full drum set ( drummer please bring you pedals, snare, cymbals, stands and crown). No back tracks of any kind. All performances must be 100% live. No covers are allowed. Only original music. The bands will be judged on a scale of 1-10 on originality, stage presents, musicianship and crowd participation. This will be completely fair and the band with the most points will win $500 cash. 

We will also have bands on performing other stages that will not be competing. If your band would like to play please submit your music and info to metalwarsmiami@gmail.com and call 239.287.0988 or 305.303.3976 

Vending and sponsorship opportunities are available.

An Official Protage, Inc and DJ Oski Show.