Choose Showtime to Buy Tickets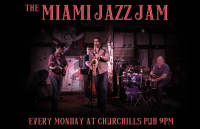 Miami Jazz Jam with Fernando Ulibarri & Theatre de Underground Open Mic with Rio Dios Mio!
Ages: 18+ Ages
All Event Showtimes
May 29, 2017 9:00 pm
- 3:00 am
Every Monday night for 17 years and counting it's the Miami Jazz Jam! Starring the Fernando Ulibarri Group and Surprise Guests! Outback on the patio stage it's open mic with Theatre de Underground hosted by Rios dios Mios! $5 for 21+, $10 for under 21.