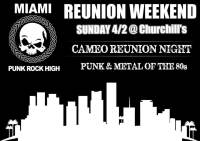 MIAMI PUNK ROCK HIGH - CAMEO REUNION NIGHT with Cheetah Chrome (Dead Boys), Amazing Grace, Z-Toyz, Hamerhed, Broken Talent, D.A.M., FWA!, Toxic Shock, Vagrant Stomp, DJ Skidmark, & DJ Chris Briggs
Time: 9:00pm Day: Sunday Doors: 8:00pm Ages: 18+ Ages
This Event Has Ended
> BENEFIT CONCERT <
ALL PROCEEDS GO to the
MIAMI PUNK ROCK HIGH Archive Project
Get your tickets now:
https://www.gofundme.com/miamipunkrockhigh

CAMEO REUNION NIGHT
"Punk & Metal of the 80s"
Sunday, April 2nd @ Churchill's

CHEETAH CHROME & Friends
AMAZING GRACE > Steve Lambert, Gary Lambert, Joey Maya
Z-TOYZ > Peter Spirer, Zane Suarez, Hans Walters, Scott Levy, Craig Kiell
HAMERHED > Oscar Montejo, Dean Robiana, Jorge Hernandez, Cesar Lavin
BROKEN TALENT > Malcolm Tent, Jill Elizabeth
D.A.M. > Don Dam, John Landers
FWA! > Ramon Arronte, Jesse Alvare
TOXIC SHOCK > Dave Dunn, Monchy Corugedo, Vince Moody
VAGRANT STOMP
DJ SKIDMARK > Mark Noonan
Guest DJ CHRIS BRIGGS - WVUM METAL REVOLUTION

> GET YOUR TICKETS, T-SHIRTS & STICKERS IN ADVANCE..!!
https://www.gofundme.com/miamipunkrockhigh

Originally I had hoped to use the Cameo Theater one last time. But alas it's not a concert venue anymore. But doing this show in one of the oldest active punk bars in America will be good enough...

Remember > Girl School played Flynn's 33 years ago (almost to the day) to one of our biggest crowds ever there…Z-Toyz & Hamerhed opened for them...Punks & Metalheads partying together...AND after I left for L.A., Paco booked a number of metal bands into the Cameo…so bringing together these two scenes for this show makes sense….

When I announced this show, a handful of punk bands from back in the day responded immediately, bands that it opened for major acts for me back in the 80s (BROKEN TALENT, D.A.M., TOXIC SHOCK)...and FWA! features Ray Bones & Jesse Alvare (original Flynn's DJ & 27 Birds/ Blitz alumni)...these bands will play short, blazing 15 minute sets, so COME EARLY…DJ Skidmark will spin the tunes & create the mood….

This show allows me to have my two favorite local metal bands from the 80s (Z-Toyz & HAMERHED) play longer sets than they would been able to on Saturday...and during their portion of the night, Chris Briggs from the WVUM METAL REVOLUTION show will spin…(Motorhead & Circus of Power, I hope..!!)

When Steve & Gary Lambert contacted me to confirm that the great AMAZING GRACE would reunite for this event, well....most of you know from back in the day know what this means…I am SO PROUD of them for doing this for us…!!

Finally: my deepest Thanks go to Cheetah Chrome for agreeing to come down and close out our entire Reunion Weekend & play a set with Rob Elba's All Stars...
A true pioneer from the early days of CBGBs punk...
Thank You, my brother, for coming thru for us…

> Miami: we're gonna have a Dead Boy in the house..!!
> What a way to close out our Reunion Weekend with a bang…!!!