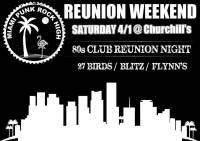 MIAMI PUNK ROCK HIGH - 80s CLUB REUNION NIGHT with Z-Cars Tribute, Charlie Pickett & Friends, Cats On Holiday Tribute, The Chant, The Essentials, The Preachers, Iko Iko, The X-Conz, Kevin Macivor & Friends, The Sleep of Reason, Larry Joe Miller, Milk Spot, DJ Alan Trueba, & DJ Malcom Tent.
Time: 9:00pm Day: Saturday Doors: 8:00pm Ages: 18+ Ages
This Event Has Ended
> BENEFIT CONCERT <
ALL PROCEEDS GO to the
MIAMI PUNK ROCK HIGH Archive Project
> ALL LINEUPS CONFIRMED 3/16/17 <

80s CLUB REUNION NIGHT
"27 Birds / Blitz / Flynn's"
Saturday, April 1st @ Churchill's

Z-CARS TRIBUTE > Ray Harris & Chris Bacon with Roger Deering (of the DRILLS!), Tom Vazquez
CHARLIE PICKETT & FRIENDS > Charlie Pickett, Eddie O'Brien, Mike Vullo
CATS ON HOLIDAY TRIBUTE > Ray Harris, Steve Parke, Charlie Pickett, Tom Vazquez
THE CHANT / THE ESSENTIALS > Walter Cz, Jim Johnson, Rich DeFinis
THE PREACHERS > Richard Shelter, Nick Kane, Slip Mahoney, Tom Wray, Leo Casino, Mitch Mestel
IKO IKO > Graham Wood Drought / Nick Kane & friends
THE X-CONZ > Rob Elba, Glenn Wexo, Yves Bouhadana, Lenny Boguslaw
KEVIN MacIVOR & FRIENDS > The Bobs, D.T. Martyrs
THE SLEEP OF REASON > Oscar Herrera, Kevin Janosky, Tony Klinakis
LARRY JOE MILLER > Rockabilly Rockets
MILK SPOT
DJ ALAN TRUEBA
Guest DJ MALCOLM TENT

The idea for this show came from Ray Harris…
> Originally, all I wanted to do was Storyteller's Night (for the book & screenplay project) and maybe a rowdy Punk night for all the Cameo Facebook fans…
But Ray & Chris of Z-Cars would not play acoustically...and Ray said "Why don't you do a show where we can plug in..??"
And THAT was the seed...where a couple of small party events started to grow into the full blown "Reunion Weekend" that we have coming up now….

Each band will be playing a short 15-20 minute set, with the later bands playing longer ones…
Show starts at 8;30 and will go way after midnight...just like the old days….
tickets available at: https://www.gofundme.com/miamipunkrockhigh