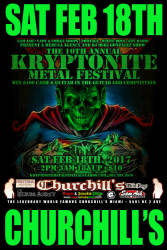 The 10th Annual Kryptonite Metal Festival & $100 Cash Guitar God Competition! Over 35 Bands on 3 stages! Plus vendors, door prizes and more
Time: 3:00pm Day: Saturday Doors: 2:00pm Ages: 18+ Ages
This Event Has Ended
2017 KRYPTONITE METAL FESTIVAL OFFICIAL LINE UP:
Sam Ash • Vape & Smoke Shops • Protage • GTV Radio 
White Boys • All Insurance Resourses • Lab Pixlz Studios
present an Official Medusa Agency and Dj Oski Gonzalez Show.
The 10th Annual Kryptonite Metal Festival & $100 Cash Guitar God Competition • Saturday February 18th,2017 at Churchill's
The Biggest, The Brutal, The Baddest Underground Metal Festival in South Florida is back!!! Over 35 Bands - 3 stages - Guitar God Competition - Vendors, door prizes and more. Doors open at 2pm. 3pm-3am. $10
RSVP: https://www.facebook.com/events/1302692166459220/
2017 KRYPTONITE METAL FESTIVAL OFFICIAL LINE UP:
SAM ASH STAGE (INDOOR)
2PM-230PM • MIKEY CUNNINGHAM & THE AFTERMATH
3PM-330PM • WAI2GON
4PM-430PM • VENOMOUS FICTION
5PM-530PM • WICKED PLAYGROUND
6PM-630PM • MEKRONIUM
7PM-730PM • LETTERS OF THE LOST
8PM-830PM • IRRA'S ONE
9PM-930PM • ESCAPE
10PM-1030PM • EMBERS DAWN
11PM-1130PM • SILENMARA
12AM-1230AM • REVOLUTION
1AM-130AM • INFERION
2AM • GUITAR GOD COMPETITION
PROTAGE STAGE (INDOOR)
230PM-3PM • CHANDELIERS
330PM-4PM • LIVEKILL
430PM-5PM • THE KNOWING WITHIN
530PM-6PM • ARMADA
630PM-7PM • EROS
730PM-8PM • EUNOIA
830PM-9PM • EPSILON
930PM-10PM • 1000 POUNDS OF THRUST
1030PM-11PM • MCFISTY
1130PM-12AM • STATE OF SOLITUDE
1230AM-1AM • MAEDUSA
130AM-2AM • SHADOW REBORN
VAPE N SMOKE SHOP (OUTDOOR STAGE)
445PM-515PM • URN
545PM-615PM • NATION OF DECAY
645PM-715PM • TOASTED MARSHMALLOW ZOMBIES 
745PM-815PM • OUTLAW TENDENCIES
845PM-915PM • KATABATIK
945PM-1015PM • RITE TO BARE ARMS
1045PM-1115PM • BORN BENEATH
1145PM-1215AM • RIOT AGENTS 
1245AM-115AM • OF THE WASTELAND
145AM-1215AM • LOADED GUNS
Please use these hashtags #KMF10 #Kryptonitemetalfestival #kryptonite10
We will collect all footage and pictures later for an upcoming documentary on Kryptonite fest. Be part of it. \m/
Attention all guitarist!!! Enter The 2017 Guitar God Competition at Kryptonite Metal Festival. To enter please call hotline 
305-303-3976 asap and email your info to: kryptonitemetalfestival@yahoo.com
Winner receives $100 cash, a one of a kind Kryptonite Metal Festival guitar autographed by all the bands and more.
Rules: You win be given 1 minute to do what ever you want on the guitar. The crowd and judges will pick the winner.
All Guitar Gods will get a Magnetapick from www.magnetapicks.com These are the coolest picks in the world made here in South Florida.
SUPPORT OUR SPONSORS AS THEY SUPPORT METAL!!!
Sam Ash Music Stores • The Music Gear Megastore www.samash.com
Vape & Smoke Shop - Biscayne • For all your smoking needs
www.vapensmokeshops.com
Henry Paniccia and Protage • Protect The Diamond
Tour Managment - Booking Promotion
Henry Paniccia at henry.paniccia@gmail.com
Tel: 239.287.0988
Oski Printing and Marketing • For all your printing needs
Contact 305.303.3976
Roll White Boys • Apparel and rolling papers http://www.rollwhiteboys.com/
Lab PixlzStudios • For all your music video needs.
Big Herc Productions LLC and GTV Radio. Get your music played on our Kryptonite Special Edition Show.Send an mp3 of your music to: gtvradio305@gmail.com
All Insurance Resources • For all your insurance needs.
To be a vendor or sponsor call hotline 305.303.3976
Kryptonite Metal Festival 10
Saturday February 18st, 2017 2pm-3am
Hotline: 305.303.3976
Email: kryptonitemetalfestival@yahoo.com
Website: www.kryptonitemetalfestival.com
Event page: https://www.facebook.com/events/1302692166459220/